Contact: Ian Szlazak
Resolution House Inc.
71 Rideau Terrace
Ottawa, Ontario, Canada K1M 2A2
Tel: 613 746-9679
Fax: 613 746-6637
E-mail: iszlazak@resolutionhouse.com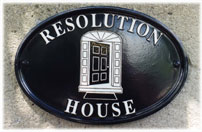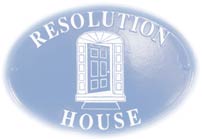 Booking Us: Terms and Procedures
Resolution House recommends that the prospective users of our dispute resolution services become familiar with the following conditions and procedures for booking Ian Szlazak for a mediation, arbitration or other intervention. This suggestion applies particularly to individuals, law firms and organizations which themselves have limited availability and require efficient advance planning for such interventions.
Mandatory (Ontario Superior Court of Justice, Rule 24.1) Mediations
Resolution House has provided mandatory mediation services in Ottawa since 1996. Information about these mediations, governed by Rule 24.1 under the Courts of Justice Act and sometimes referred to as Court-connected mediations, may be found at www.attorneygeneral.jus.gov.on.ca - follow the links to "Mandatory Mediation". Ian Szlazak offers professional mediation services for cases in the mandatory stream under a fee schedule which has been developed to suit these mediations and be responsive to cost concerns. The fee schedule for mandatory mediations, whether it be a half-day or a full-day booking, is set at considerably discounted rates from those applying to comparable Resolution House private mediations. Parties or counsel wishing to book a mandatory mediation may use the Mandatory Mediation Booking Confirmation form or confirm a booking by sending written confirmation by e-mail or fax, setting out all of the information referred to on the above form. Your booking will be confirmed promptly by e-mail or alternate means, if necessary, addressed to all counsel/representatives.
Private Mediations
Private mediations are governed by the applicable fee schedule, which is dependant upon the length of time booked and the location of the mediation. Interested parties or counsel may call or e-mail Resolution House and the applicable fee schedule, including all terms and conditions, will be forwarded. Upon confirmation of a booking, the parties or their representatives will be sent the Resolution House Mediation Agreement, along with a Mediation Fee Agreement, which must be signed and returned in order to secure the booking. It is recommended that all parties to a private mediation review the Guidance pages (Choosing a Mediator - The Mediation Process and Preparing Yourself for Mediation), on this website.
Family Mediation Services
Ian Szlazak offers family financial mediation services for individuals whose marriage or relationship has come to an end and who wish to enter into an agreement governing their separation, including future living arrangements, property distribution, spousal support and child support. Where parties have worked out how they will deal with parenting issues, Ian will assist in the formulation of an agreement pertaining to financial issues and incorporate their prior agreement(s) into a comprehensive separation agreement, which the parties may then take to their respective lawyers for review and approval. In situations where it is apparent that parenting issues have not been worked out, it is recommended that the parents work with a specialist in parenting issues, whose training will complement that of Ian Szlazak and ensure that the parties obtain the most appropriate assistance possible.
Ian also offers a related family/marital service that will appeal to those who are having difficulties in their relationship but who would like to try and make changes to revive it so that it might continue, rather than come to an end. This service, not generally offered in the Ottawa area, is called "Mediation to Stay Married" (MSM). It requires a mutual desire to participate in a mediation process which will focus on helping a couple develop concrete techniques, plans and goals to address their marital issues. Ian will assist the parties to break impasses they may have come to and help them improve their interpersonal communication skills, drawing upon his extensive experience with parties in disputes of all kinds and his legal background. The MSM process is not "marriage counseling", nor is it analysis/therapy of deep-seated psychological issues; where the need for such processes becomes apparent, it will be recommended to the party(ies). In many cases, MSM can continue concurrently with complementary processes.
An example of the type of challenge where MSM can offer a couple assistance is with respect to financial issues, which encompass matters related to level of contribution to family wealth, spending habits, "lifestyle", loss of employment, business bankruptcy and inheritances, to name some. By no means is MSM limited to financial issues.
Ian will work with the couple to analyze their problem(s), discuss options and assist them in forging a way forward that meets the needs of both. It is possible that with some new tools in their marital conflict management toolbox, parties who were contemplating divorce may find that they are better equipped to address the array of issues that can crop up between them, and that they come to look upon divorce as an option they do not want to pursue. In addition, MSM allows a couple to carefully consider the consequences of divorce before they take steps which may be irreversible. If desired, the parties can put their commitments to each other in written form, in a memorandum of agreement which Ian will help them write. It is recommended that the parties consult legal counsel before finalizing any agreements.
If you believe that marriage, at least some of the time, is WORK, wish that a deteriorating situation could be addressed and are not sure what to do, MSM offers an alternative. And you might just discover a truth that some "multiple-marriage" spouses have found: "If I knew then what I know now about marriage, I would have made my first marriage work!".
Resolution House acknowledges the inspiration and assistance of L. Israel, a US colleague, with reference to MSM.
Parties interested in retaining Ian are advised to read the Information Sheet "Starting Anew... Family Mediations with Ian Szlazak, Resolution House Inc." beforehand (available upon request). Family mediations are governed by a fee schedule and related terms and conditions which are designed to accommodate individuals participating in mediation without lawyers.
Booking Process
Booking with Resolution House has never been easier! Use our on-line calendar to check for Ian Szlazak's availability and then send an e-mail or fax indicating the date and time desired. It will be answered promptly. If you need other information, please call and we will be happy to assist you. Once a date has been selected, clients or their representatives are asked to confirm the booking in writing, setting out the information referred to below. A written confirmation will be sent by Resolution House to the parties and/or their representatives, usually by e-mail. In some cases, including all family-related matters, deposits are required before work will be undertaken.
Resolution House has endeavoured to minimize paper flow. Coupled with frequent availability on short notice, the intervention that you require usually can be set up in a number of days. Resolution House clients are welcome to request process assistance at any time, whether it be regarding the preparation of briefs or other questions.
Information Required to Book an Intervention:
The case name, title of proceedings or style of cause (eg.: "X. v. Y") if the matter is the subject of litigation; if otherwise, the names of the parties involved in the dispute.
The names, telephone, facsimile numbers and e-mail addresses of all parties/counsel/representatives involved in the case.
The Court case number (that is, the number assigned by the Court, not an internal file number), if applicable; this number is found in the upper right hand corner of the statement(s) of claim and defence.
The date, time and duration of the intervention - mandatory mediations are booked for half or full days, usually commencing either at 9:00/10:00 a.m. or at 2:00 p.m., reflecting the time allocation most frequently utilized for mandatory mediations. Mandatory mediations booked for more than a half-day may be subject to increased minimum charges and increased cancellation charges. Private mediations are booked for full and half days, with a minimum fixed rate and subject to terms and conditions specific to the location of the mediation. These mediations ordinarily commence at 9:00/10:00 a.m., but earlier starts may be arranged. Marital mediations are booked for variable blocks of several hours, in consultation with the parties. Arbitrations are booked for full days only, under a separate fee schedule, usually commencing at 10:00 a.m. The terms of all interventions are made clear at the time of booking.
Cancellations and Adjournments
Cancellations and adjournments of mediations, arbitrations and other interventions are subject to charges that are specified when bookings are made. These charges, which we believe are reasonable and are clearly set out in our correspondence, are generally applied in situations where a lost work opportunity that cannot be recovered in the time available is incurred. As a dedicated full-time dispute resolution service provider with a strict policy against double-booking time, these charges have been found to be necessary, as they are with many other professionals who set aside time for clients. Notice of scheduling changes for mediations and arbitrations, including matters arising from Court orders, should be forwarded in writing (facsimile or e-mail) to Resolution House without delay. Changes in appointed mediator must be done with our consent and in accordance with Court policy and Resolution House practice. Such changes are subject to charges. Because the Ontario Superior Court expects mediators to know the outcome of their involvement in a case, outcomes arising subsequent to a mandatory mediation should be conveyed to the mediator.
Payment Policy
The Resolution House payment policy for the majority of interventions, unless substantial disbursements are required, is to bill immediately after services are provided, irrespective of whether the account is a final one or an interim one. However, where substantial disbursements are made, some of which may not be refundable, where substantial preparatory commitments must be made by Ian Szlazak or where there has been no previous relationship with Resolution House, prepayments or retainers may be required, in amounts that are determined on an individual case basis. Family mediations are significantly different in character from other types of mediation and accordingly, they are governed by their own fee schedule and terms and conditions.
Invoices generally are issued a few days after an intervention. Multi-day matters are subject to interim-billing. Payments are due immediately upon receipt of invoice and in no case later than 30 days from the provision of services. Late payments are subject to interest and billing administration charges. In some cases, payment may be made in US or other currencies, but only with the prior written agreement of Resolution House.
To book a mediation or other service, please contact Ian Szlazak at 613 746-9679 or iszlazak@resolutionhouse.com.
The Last Word Is Yours
Both counsel and users/clients of Resolution House mediation services are invited to tell us what you thought of your mediation experience. It does not matter what the subject matter of your mediation was, or whether it was a private or a mandatory mediation. You are invited to fill out the form below and return it by the transmission mode of your choice, referring to a specific mediation if you wish or doing so totally anonymously. Your comments will be read and considered! Thank you for taking the time to respond.
Download Mediation Evaluation Form [PDF File (70 Kb)]

[ Return to top ]