Contact: Ian Szlazak
Resolution House Inc.
71 Rideau Terrace
Ottawa, Ontario, Canada K1M 2A2
Tel: 613 746-9679
Fax: 613 746-6637
E-mail: iszlazak@resolutionhouse.com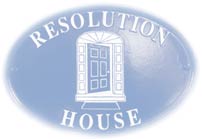 Our Privacy and Conflict of Interest Policies
Resolution House believes that it is extremely important to be able to trust a third party. A component of establishing that trust is our policy of declaring any conflicts of interest or possible perceived conflicts of interest as soon as they are detected. Such conflicts are in themselves highly unlikely to occur because Resolution House is a full-time, dedicated professional dispute resolution service provider which has severed all partisan relationships. Furthermore, Ian Szlazak does not practice law "on the side" and he is not a member of a larger entity with the inevitable matrix of interests and potential conflicts that size brings.
With respect to personal and confidential information made known to it through the internet or by other means, Resolution House will not divulge such information to any other persons or organizations without explicit written permission. Where it is probable that personal and/or confidential information (eg.: medical records) will be conveyed to Resolution House through the internet, it is recommended that such information be conveyed by alternate means which can provide enhanced security and privacy. Courier deliveries to Resolution House may be left at our drop-off/pick-up box at the front entrance of 71 Rideau Terrace, Ottawa, Ontario K1M 2A2. Facsimile transmission of documents to 613 746-6637 is to a machine with very limited access. Clients who require special arrangements, including the return of documents and exhibits, are asked to raise these concerns at the earliest possible time, preferably in writing.
In order to carry out its third party role, Resolution House must review information thought to be relevant by the parties in order to become familiar with the facts, issues and related data. Several months after the completion of an intervention, Resolution House destroys the written material in its possession by shredding, or, in the case of electronic material, deleting it. It is particularly careful with documents containing highly personal information, such as medical reports.

[ Return to top ]