Contact: Ian Szlazak
Resolution House Inc.
71 Rideau Terrace
Ottawa, Ontario, Canada K1M 2A2
Tel: 613 746-9679
Fax: 613 746-6637
E-mail: iszlazak@resolutionhouse.com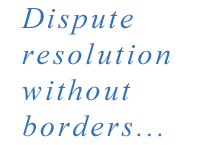 RH Plus: Special Services
Toronto/GTA Flat-Rate Mediations
In addition to operations in Ottawa and eastern Ontario, Ian Szlazak offers mediation (and labour arbitration services) in the Greater Toronto area (GTA), where he practiced as a lawyer for a considerable part of his career. Drawing upon the breadth of experience that he has acquired mediating a wide variety of disputes arising in the Superior Court of Ontario (see Our Services and Ian Szlazak Curriculum Vitae), Ian offers counsel and parties mediation services at a competitive flat-rate per diem and permits clients to use the day in a flexible manner if they so wish, including doing two mediations in a day for one fee. This service is designed to be particularly attractive to parties and counsel who are engaged in complex, multi-party disputes. E-mail or call Resolution House (toll-free 1 877 SZLAZAK or 1 877 795-2925) for a copy of the GTA Flat Rate Fee Schedule.
Securities-Related Litigation
As an investor and third party in turbulent economic times, Ian Szlazak is familiar with the types of issues that can arise in a client-stock broker relationship. Having successfully completed the Canadian Securities Course in 1996 and been involved in several dozen of these relatively specialized mediations, Ian offers an ability to quickly assimilate complex information and offer effective, contextually-relevant neutral assistance.
Workplace Interventions
Workplace problems, often between people who clearly are in a continuing relationship, frequently call for rapid interventions. Whether it be a facilitated dialogue, a mediation, an investigation, fact-finding, coaching, arbitration or some hybrid process, Ian Szlazak is accustomed to telephone briefings and can be on-site in short order. Ian has over twenty-five years of experience with employment-related problems, including over a decade of managerial service in a large corporation. Clients can expect an honest assessment of the issues and a customized, as opposed to a "canned", approach to helping to resolve them. Confidences that are inherent in many of these types of interventions are a paramount concern and are dealt with accordingly.
Quick-Med/Quick-Arb Service
Resolution House appreciates that busy parties and representatives frequently have agenda problems. To help alleviate these problems, Ian Szlazak frequently is able to provide dates for all types of interventions that are only a few days or weeks hence. Particularly for that vexing problem that should have been dealt with months ago or where party/representative availability is an issue, this service is very useful. Where for some reason another mediator or service provider cannot meet the time-sensitive needs of clients, Ian Szlazak usually can fill in on short notice. This is made all the more easy to arrange because of Resolution House's Conflict of Interest Policy. Because our calendar changes daily, the most effective way to get an early date, dubbed our "quickie" service, is to call 613 746-9679, fax 613 746-6637 or e-mail iszlazak@resolutionhouse.com, preferably indicating several available dates, the length of time required, your location (travel time is a factor) and a short description of the dispute or problem.

[ Return to top ]